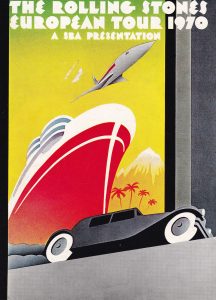 Because the tour was in Europe there wasn't much US press coverage.  If you think Altamont was scary, it was only one day.  The 1970 Euro tour was two months of violence! Anti Vietnam war protests, cars burning in the streets, mob control police, Hell's Angels with bare chests and badges pinned to them, drunk reporters, and rioting fans.

Prior to the opening concert, Mick had told a reporter, "We are not making any money out of this tour. It has only been arranged as a friendly gesture for our European fans. The contact with the audience makes us feel happy. There's nothing to replace it." 
That's the truth. The Rolling Stones weren't in it for the money.
Following Malmo, the Stones played Helsinki, Finland, and then Stockholm, Gothenburg, and Arhus in Sweden, and Copenhagen. After a week in Germany (Hamburg, Berlin, Cologne, and Stuttgart), they're in Paris for two nights at the Olympia, September 22nd and 23rd, followed by one-nighters in Vienna and Rome. They start October off in Milan, move on to Lyons, and then back to Germany for concerts in Frankfurt and Essen, October 5th and 7th, before closing in Amsterdam. Also on the tour is Chicago guitarist Buddy Guy's group, featuring Junior Wells on harmonica. Chip Monck and a 12-man team are producing the tour. This is a story from the October 1, 1970 issue of Rolling Stone.
 As I said in my book: if Decca hadn't paid the Paris, George V Hotel bill, the Rolling Stones would have lost a least $50,000 touring for the fans. Here we are exiting the George V: