There was no film planned for the 1969 Rolling Stones US tour
The Rolling Stones knew they were going to follow the 1969 US tour with a European tour. Prior to MTV, the way to promote albums and tours in Europe was via film clips. The Stones wanted to film at least two of their songs and had decided they should be shot at the 1969 Madison Square Garden shows where they were going to record a live album. They wanted me to close the deal for a director and cameraman. On November 25th, I met with David and Albert Maysles at the Plaza Hotel.
We discussed the requirements. We only wanted two songs for the promotion. The Maysles suggested they go to the Baltimore concert and get a feel for the Stones' performance to come up with ideas on how to capture the songs on film. The next morning, they called me at the Plaza and came back with a suggestion to do four songs they would film during the three Madison Square Garden shows. David pitched the idea for four songs since he thought we might have a chance of turning that footage into a half-hour TV special. They would give us a thirty-minute rough cut of the show, he said, that would not be longer than forty-five minutes.
After Muscle Shoals and Altamont, things changed!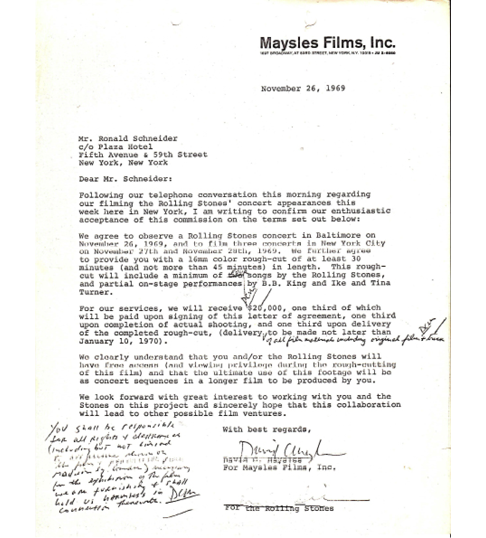 Nov.26 Albert Maysles Birthday and the same day in 1969 we signed the deal to film four songs at the Madison Square Garden show
on the 28th of November